Acoustic absorption "Watayuki II"
In order to effortlessly obtain a good sound.
A revamped sound absorption is released.
From desk top audio style to a large listening room.
Bring your audio system closer to the real stage.
By placing it behind the speaker, extra acoustic sound and blurring can be cleared.

If you install them in the corners of a room, they will absorb the sound that is held up in the corners and balance the sound in the room. Four sound absorbent blocks with different thicknesses and a larger sound absorbent surface will control absorption by corresponding to a wide range of sounds.

By using the sound absorption, the Watayuki II and sound diffuser (Azteca)together, you can tune the sound in your room efficiently, in accordance to the issues of your room.
The sound absorbent materials of the Watayuki II are made of PET that is friendly to environment and human body.
It has a springy mille-feuille structure with layers of light and soft fabric like cotton candy. With this structure, it offers high sound absorption effect. Its aeration performance is also good, and the sound naturally decays and does not cause reaction such as clogging or muffling of sound.

It has a durability, and unlike sponge or urethane, it will not crumble and fall. It does not itch like glass wool or does not cause sick-house syndrome like formaldehyde. So you can use it at ease.
For the external case, carefully chosen paper material for its strength and durability is used. This material enhances absorption effect without extremely blocking the transmission of sound. Furthermore, because of its light weight, you can quickly attach it with pushpins.

The Watayuki II have color variations of black and white.
Please choose your favorite color to match your interior.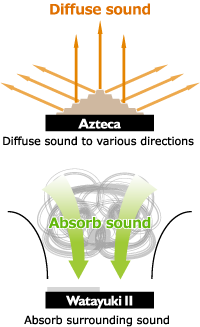 Roles of sound diffuser and
sound absorption
<Sound diffuser>
·To reduce standing wave.
·To reduce too much absorption of sound.

<Sound absorption>
·To absorb muffling sound (haziness).
·To reduce doubling sound.
Usage points
Install Azteca in the places where reflection of sound occurs!
(e.g. back of speaker, side wall, ceiling)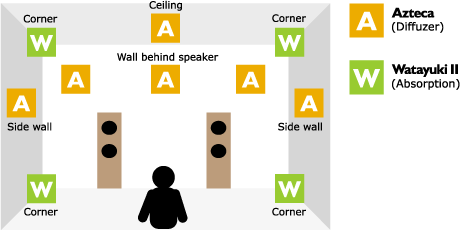 Watayuki II
Model

WY-B (Black)
WY-W (White)
Dimension
W:220×D:60×H:220mm
Weight
About 160g
*Product Type, standard, design, price may change without advance notice
in order to improve the product, etc.
Brochure Download(English)