Insulator "Cat", "Mouse"
Thin and small single spike insulator
that can be joined together.
Smallest Integrated Insulator Model
The Cat and Mouse are the single spike insulators that work as mechanic diodes. Using the characteristics of transferring vibration one-sidedly, they have an integrated spike in each brass body. With this integrated structure, they can have great effect without sacrificing ease of use and stability.

Sticky solution, which is a damping solution, is injected in the integrated structure of the Cat and Mouse. It will absorb unnecessary vibration and enable to reproduce a broad and clear sound field space. Because the thickness of Cat and Mouse is less than 2cm, they can be placed under the compact systems that have limited height such as visual device or PC audio and work extremely well.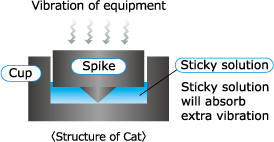 Thin and Convenient Insulator
Compared to the conventional PROP Series, the Cat and Mouse are thinner, which allow you to install them in a small space of audio equipment that has limited height such as audio equipment in a rack. With the Cat and Mouse, casual yet high quality tuning is possible.
For their compact shape and compact price, the Cat and Mouse are convenient insulators that can be easily used for small audio to large audio equipment.
PROPs that can be joined
The imminent characteristic of the Cat and Mouse is a screw hole on the top side of the spike. When you look at it closely, there is a same screw hole on the bottom side of the cup. By using the screw hole and attached screw for joint (M3x7mm), connection as shown on the right figure is possible.
Unlimited Possibilities depending on Combination!
By using the joint function, you can gradually increase the number of Mouse from one to two, three layers and enjoy the difference. Combination is unlimited. Why don't you make your own ultimate insulator?
Please Enjoy the Cat and Mouse
with the Following Equipment.
The Cat and Mouse can be used for any types of audio equipment that vibrate.
For example, the Cat is small and it can be neatly placed on the foot of the standard size audio-visual component. With the Cat, heavy equipment can be installed with stability.
The Mouse is suitable for the foot of the small size entry audio or net audio equipment.
With the Mouse, small, light and thin AC equipment can be installed in well-balance manner.
* Recommended equipment
Amp, speaker (floor-style, middle style, book shelf), CD player, analogue player, AV Amp, BD, HDD recorder, center speaker, subwoofer, mini-compo, compact speaker, monitor speaker, headphone amp, power supply box, etc.
Cat
Model
CA-3
CA-4
Dimension(mm)
39×H19.5
Weight (g)
160/ unit
Load weight
Up to 15kg per unit is recommended.
Mouse
Model
MO-3
MO-4
Dimension(mm)
27×H14
Weight (g)
60/ unit
Load weight
Up to 15kg per unit is recommended.*
* In order to have the maximum effect of Mouse,
the recommended load weight is about 7kg.