Vacuum tube radiation fin "TubeRadiator"
Tune the vacuum tube.
The vacuum tubes that are used for vacuum tube Amps or guitar Amps play an important role to amplify musical signals and drive speakers. The vacuum tubes are fighting against invisible enemies such as heat and vibration of plates. The heat and vibration that are always generated due to the characteristics vacuum tube hamper music reproduction.

When KRYNA's TubeRadiator is wrapped around a vacuum tube, it releases the heat accumulated in the tube to the outside. This new type of TubeRadiator is made of bronze containing phosphorus that is excellent in spring characteristics and strength. The corrugated form adheres to vacuum tube and demonstrates high radiating effect. By increasing the radiating effect, the temperature of the surface of vacuum tube decreases, resulting in less thermal noise and a clearer sound.

Lowing temperature of the surface of vacuum tube also increases the life expectancy of the vacuum tube. Our test results of measuring plate vibration of a vacuum tube indicate the effect of controlling low-frequency vibrations related to high-order harmonic and power supply. Furthermore, bronze containing phosphorus has a characteristic of absorbing electromagnetic wave. Therefore, the TubeRadiator also plays a role of filtering noise as it prevents the external impact on vacuum tube.

As explained above, by taking countermeasures to the severe environment that vacuum tube is exposed to, the TubeRadiator can bring out the true capacity of the vacuum tube, which will lead to the reproduction of a holographic sound.
Please enjoy the tranquility like a veil is removed as well as the sound full of energy.
<Radiation and vibration control effect of the TubeRadiator>
Below are the results of measuring the temperature of vacuum tube using thermograph in order to check the radiation effect of the TubeRadiator.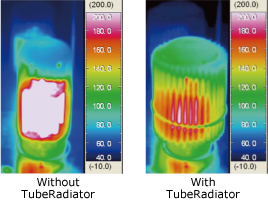 > For detailed report on the radiation/vibration control effect of the TubeRadiator, please click here.
Model
TR-S
TR-L
TR-XL
Dimension
(mm)
Internal diameter
20×H33
Internal diameter
35×H55
Internal diameter
45×H65
Examples of
compatible vacuum tube

12AU7

12AX7

12BH7

EL84

Etc.

6L6GC

EL34

GZ34

KT88

Etc.

350A
350B
300B
VU211
845
KT66
KT88
2A3
6550

Etc.
*Product Type, standard, design, price may change without advance notice
in order to improve the product, etc.
Brochure Download(English)