Digital Cable "Dica01"
A Zero Stress Cable that Conveys the Original Environment
with Dynamic Signal Transmission Power.
KRYNA's digital cable Dica01 was developed by applying our technology and structures we have developed over time to a digital specific cable and is one of only a few audio cables that "communicates digital signals."

By transmitting the digital signal directly without unnecessary additives, the original information is kept intact and the result is a quick response sound.

The result of pursuing the task of "recreating the environment and atmosphere of the original performance," not simply "sound as audio," we perfected a digital cable for Holographic Sound.
Created Specifically for Digital Cables
Silver Plated Copper Wires are Used

Using the same "Ultra Fine Soft Annealed Copper Wires" that are used for speaker cable as the base, "Silver Plated Copper Wires," newly created for digital cables, are used.

While carrying on the genetics of KRYNA, by using highly conductive silver, we are now able to transmit the digital signal more direct.
Communicating the Signal Precisely
With a Double Shield Structure
By using a Double Shield Structure in the Dica01, the inside shield (Layer 1) functions as a cord (-) and the outside shield (Layer 2) is able to isolate and block outside noise.
By defending against external influences, the digital signal is able to transmit atmosphere information more precisely, without loss.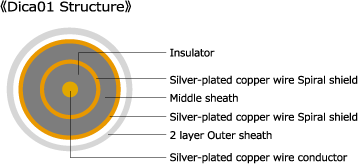 Dica01

-0.5R

Dica01

-1.0R

Dica01

-0.5X

Dica01

-1.0X

Terminal
24-carat Gold Plated
RCA Coaxial Jack Type
24-carat Gold Plated
AES/EBU XLR connectors
Structure
Quad core multi layer twist double shielded structure
Central Line
Material
High Purity Silver coated Soft Copper Wire
Outside
Material
PVC
Maximum
Diameter


6.5mm
*Product Type, standard, design, price may change without advance notice
in order to improve the product, etc.
Brochure Download(English)