Power Cable "Acca5"
Aiming at being profoundly holographic.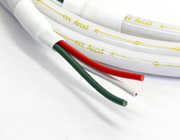 KRYNA's Acca5 was developed with a focus on how to reproduce height, depth and width (holographic sound) that has not been noticed for the power cables until now.
For the conductors, we use specially-ordered "copper strand wire" that was made by stranding layers of carefully-selected super fine wires made in Europe.
Its conductive structure flips the conventional concept of power cable, because there are about 500 wires within a diameter of 1.5mm. It can supply large volume of power, unimaginably large for its slim and flexible appearance, to the equipment efficiently and without loss.

It also has a double shielding tornado structure, which is the same structure used for the Spca7 and Inca Series. This will prevent equipment from generating disadvantages such as the muffled sound that are common with other shield structures and reduce the influence of noise and electromagnetic waves that cause the deterioration of sound quality.

If the power cable, which controls the performance of equipment, changes tone or characteristics of music, the equipment will not be able to deliver its true performance.
With various inventions as described above, Acca5 realized the flat characteristics without leaning towards high- or low-pitched sound and can reproduce a natural sound field without any additional color.

Please enjoy Acca5 that does not rely on specific equipment and can be used for any products with your audio set.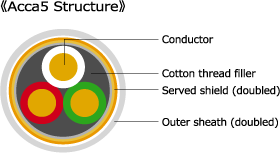 *Acca5 is as thin as 8.5mm in diameter. One big attraction of Acca5 is that it is very soft and is easy to handle. Please use it with your favorite plug.
*Acca5 performs its great effect not only for audio but also video devices. When it is used for a video device, the fuzziness and flickering will be reduced. The black colour will be dramatically crisped, and the image will have depth.

Acca5
Composition of conductor
High-purity annealed copper wire
Structure
3 wires
Number of conductors
3 conductors
Insulter
PVC, cotton thread
Shield
Double shielding tornado structure
Sheath
PVC sheath
(direction of element wire is displayed with arrow)
Outer diameter (mm)
8.50 ±0.5
Plug
None (Terminal treated)
*Product Type, standard, design, price may change without advance notice
in order to improve the product, etc.
Length of Acca

Brochure Download(English)